Did you say black Christmas tree? Oh yes, I did! Never thought I'd be coming up with ideas on how to decorate a black Christmas tree, but I have to say that I was completely surprised at the outcome.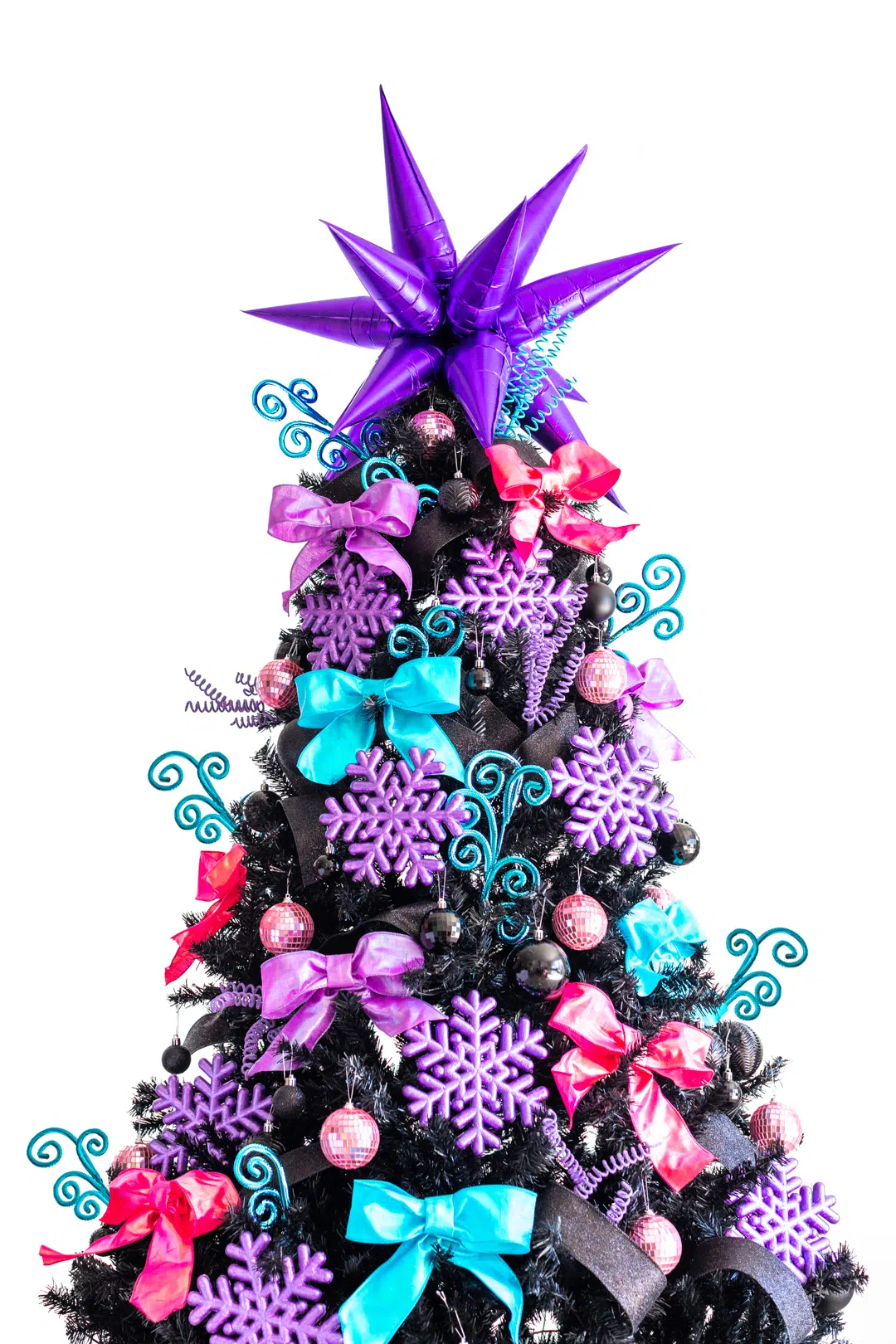 Move over pastels (for a minute) and see how you can turn a black tree into a holiday show-stopper with help of gorgeous bold colors and decorations.
How To Decorate a Black Christmas Tree
Get Free Ideas
The idea of a black Christmas tree kind of blew my mind at first. Wasn't this for Halloween? Well the answer is heck yeah but also for Christmas, which is kind of brilliant. You know that I'm a fan of decorating trees all year round, so this is another wonderful option.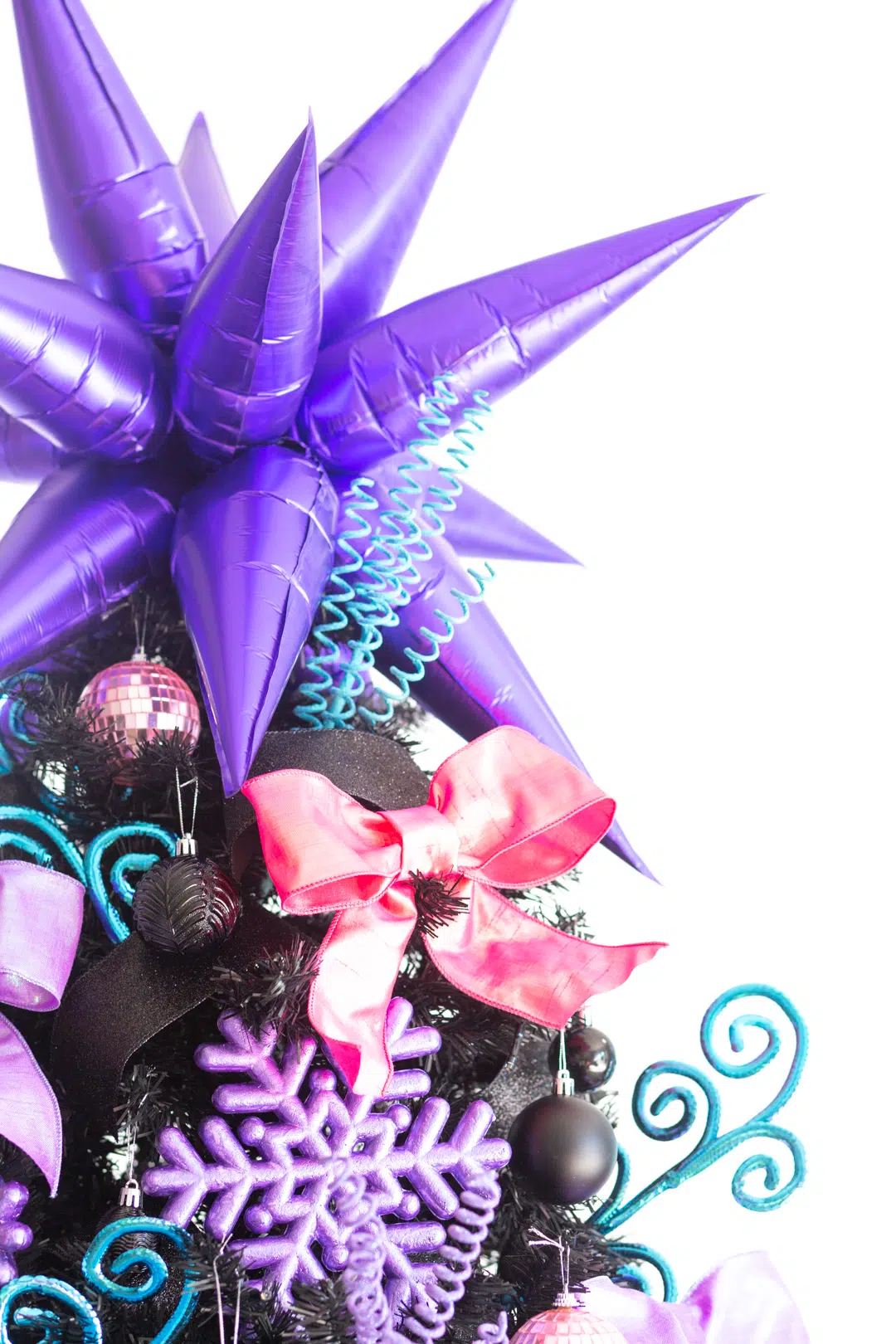 You can find all the best black trees in different shapes and sizes at Nearly Natural from 2′ to 10′. The black tree that I used is 6ft and surprisingly lightweight which is an added bonus. The color is so vibrant, it makes for the perfect backdrop to make all of your ornaments stand out. Score!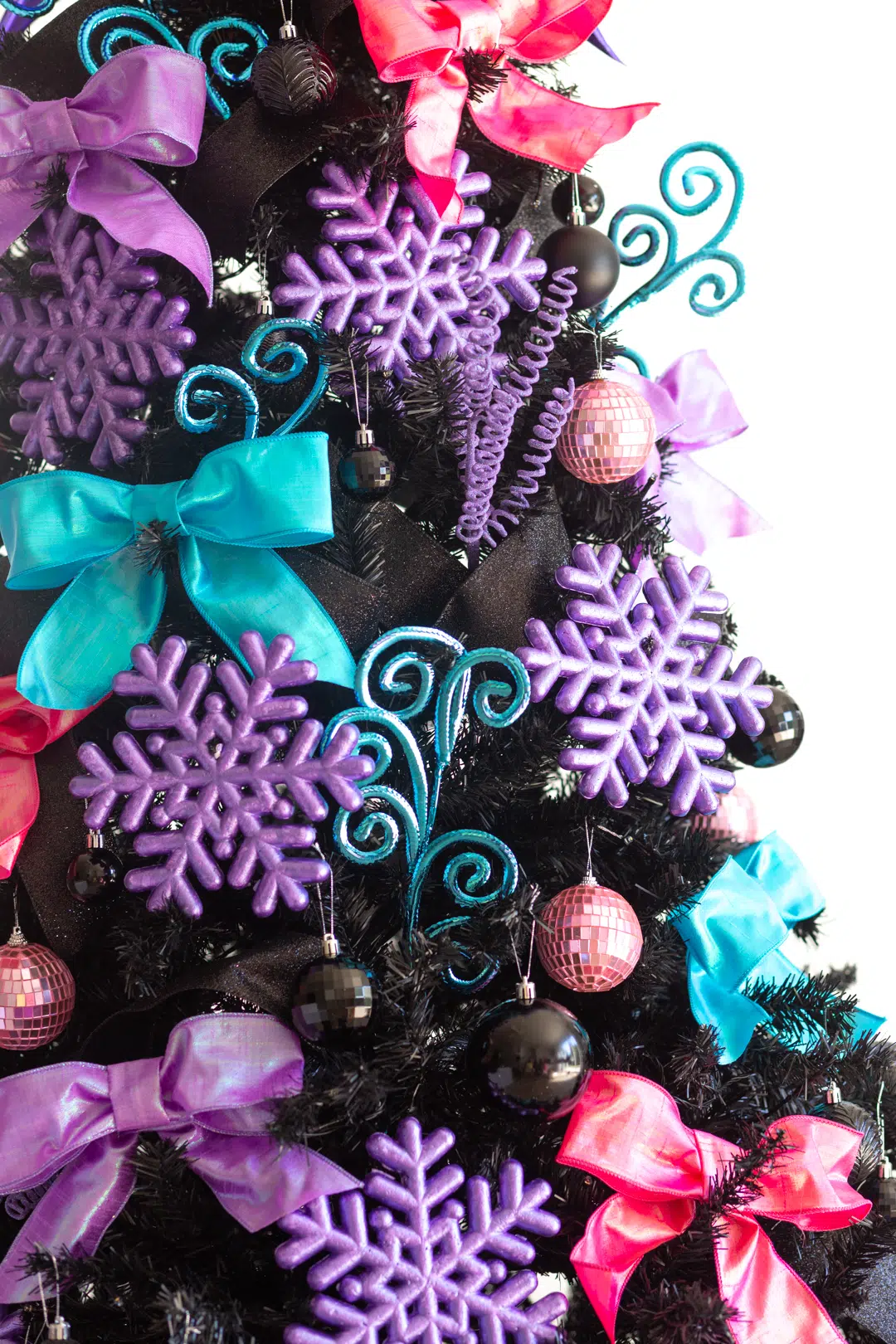 BLACK CHRISTMAS TREE IDEAS
These simple black Christmas tree decorating ideas come together for a truly elegant look. When looking around for ideas, you will usually find people decorate their black Christmas tree using the color white such as with snowflake ornaments and sometimes with gold and silver.
These are simple ways to glamorize the tree, but I wanted something even more dramatic and colorful for a grand presentation. You know, do it up big!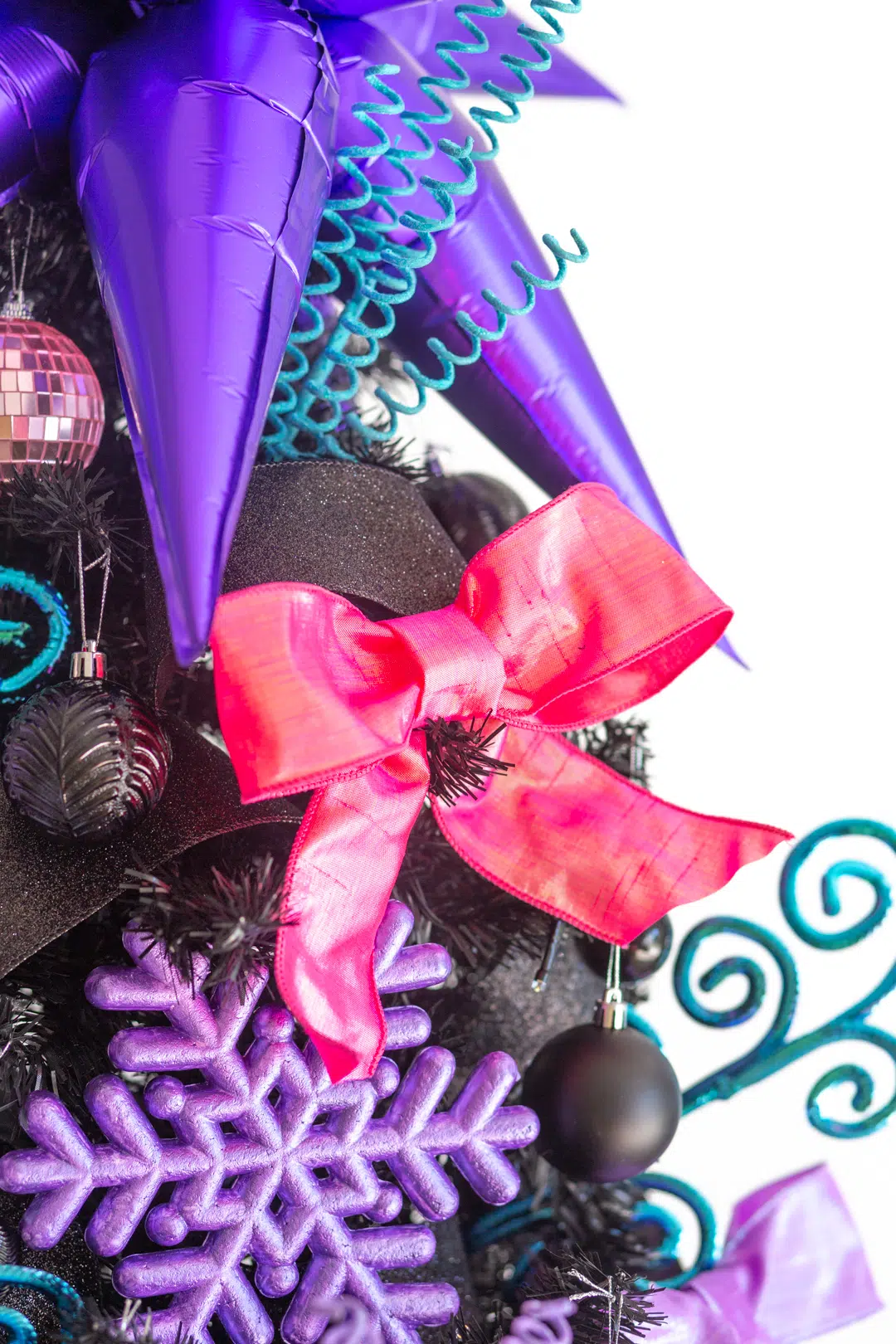 HOW TO DECORATE A BLACK TREE FOR CHRISTMAS
Here are some easy ideas I came up with for a winning look with a black Christmas tree.
Decorate with bold metallic colors when deciding which colors to decorate a black tree with.
Choose two or three colors to decorate with. This will help make the tree bold, but not overpowering and messy looking.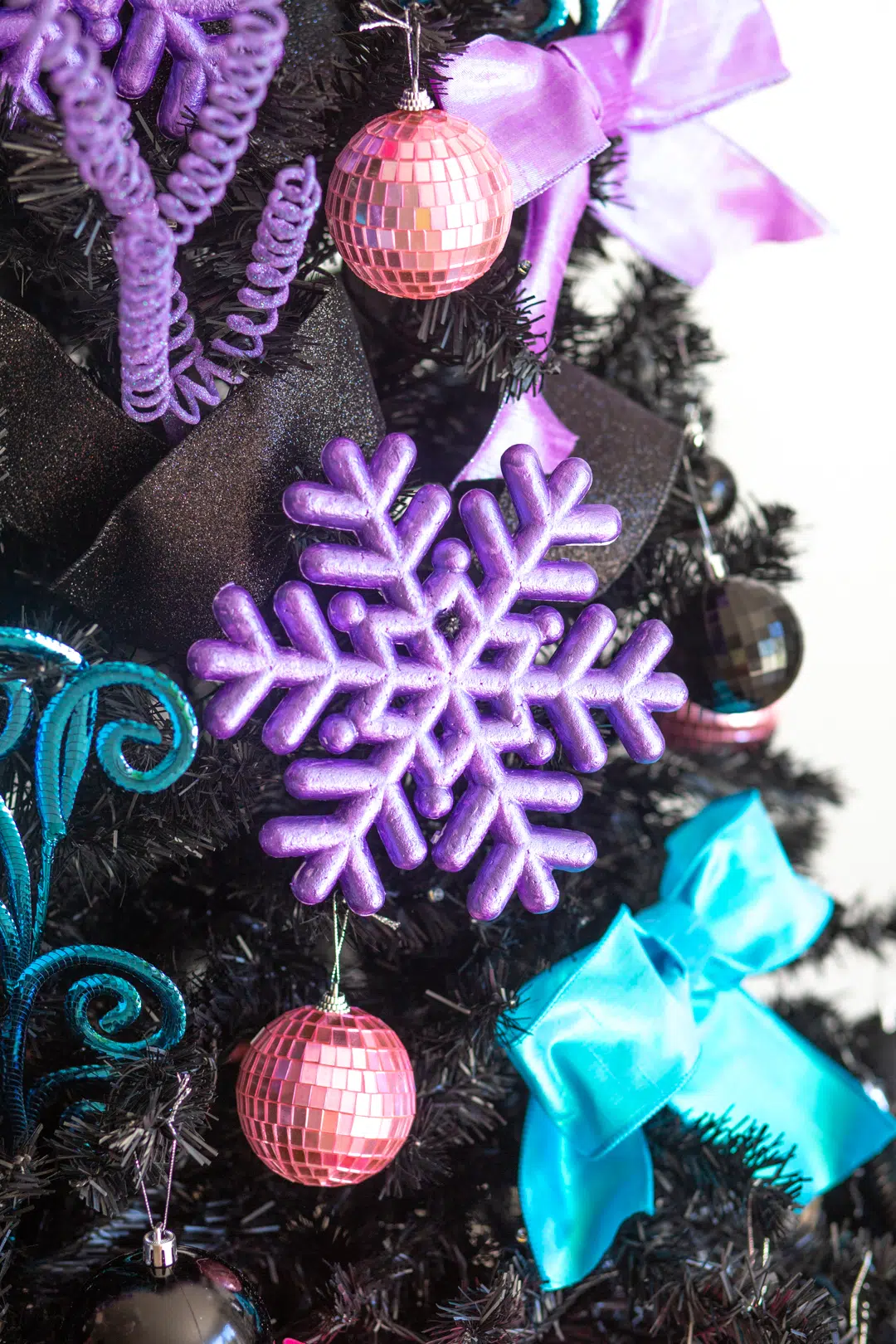 Use one or two really large decorations such as the big purple snowflakes that I used for a big eye-catching look.
Go big with your tree topper. My go-to is typically a big piñata, but I could not find one that I loved with this. When I thought of using a 3D star balloon as a topper, I knew it would really stand out. Traditional sized tree toppers have a tendency of just being there without demanding attention.
Fill in all empty spaces with black glittery ribbons and decorations. This adds a bit of elegance without being too over the top.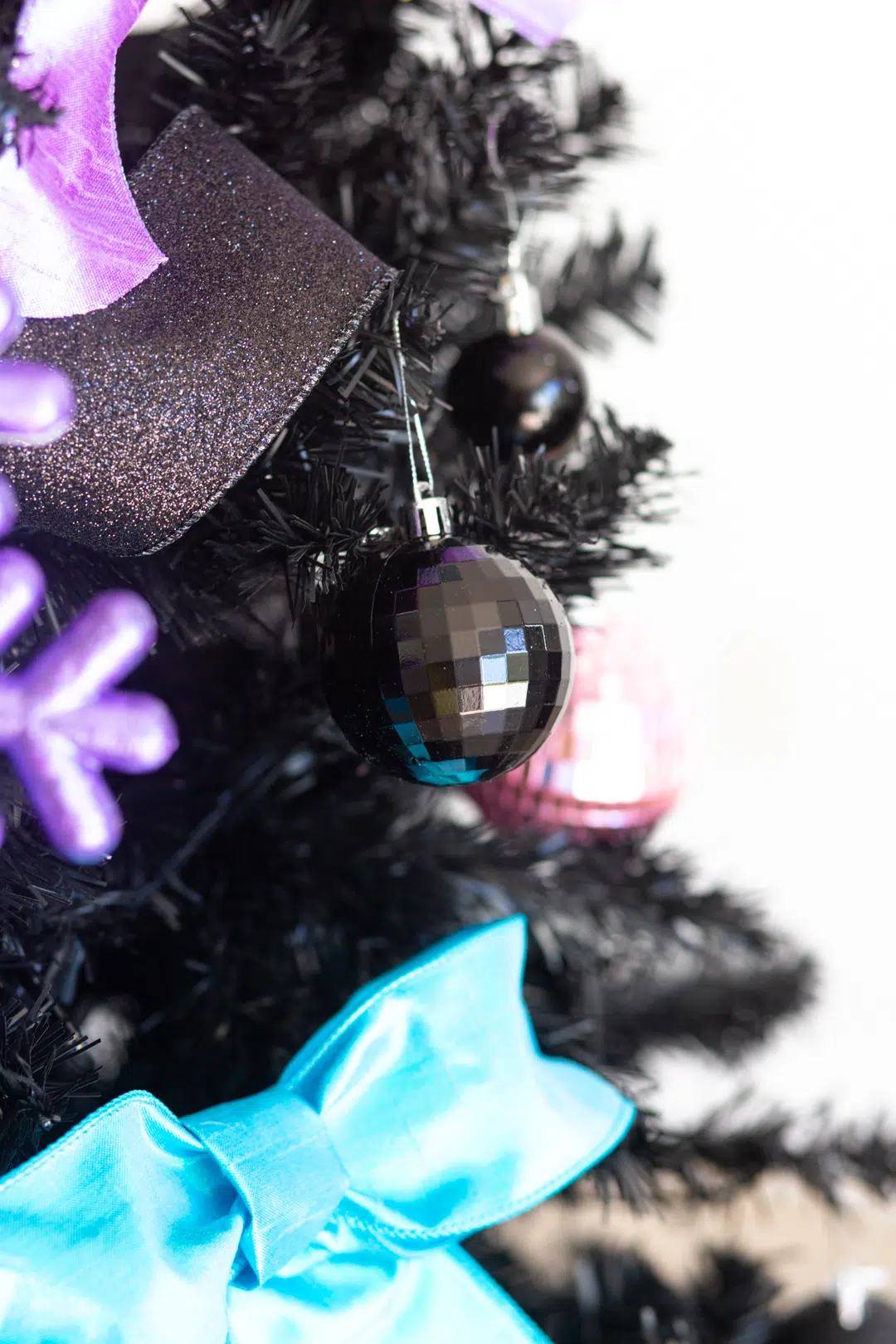 ORNAMENTS TO PUT ON A BLACK CHRISTMAS TREE
Here is a convenient list of exactly what I decked out this tree with.
Star Foil Balloon with Multiple Points used as the tree topper. Might want to stock up on a couple if you go this route. A regular star topper would also work.
Handmade Bows made of Metallic Pink, Purple and Blue Ribbon.
Styrofoam Snowflakes painted with Purple Metallic Paint.
Pink Disco Ball Ornaments
Variety of Black Ball Ornaments in Various Textures and Sizes
Purple and Blue Decorative Floral Picks
Black Glitter Ribbon Woven in an Out of the Tree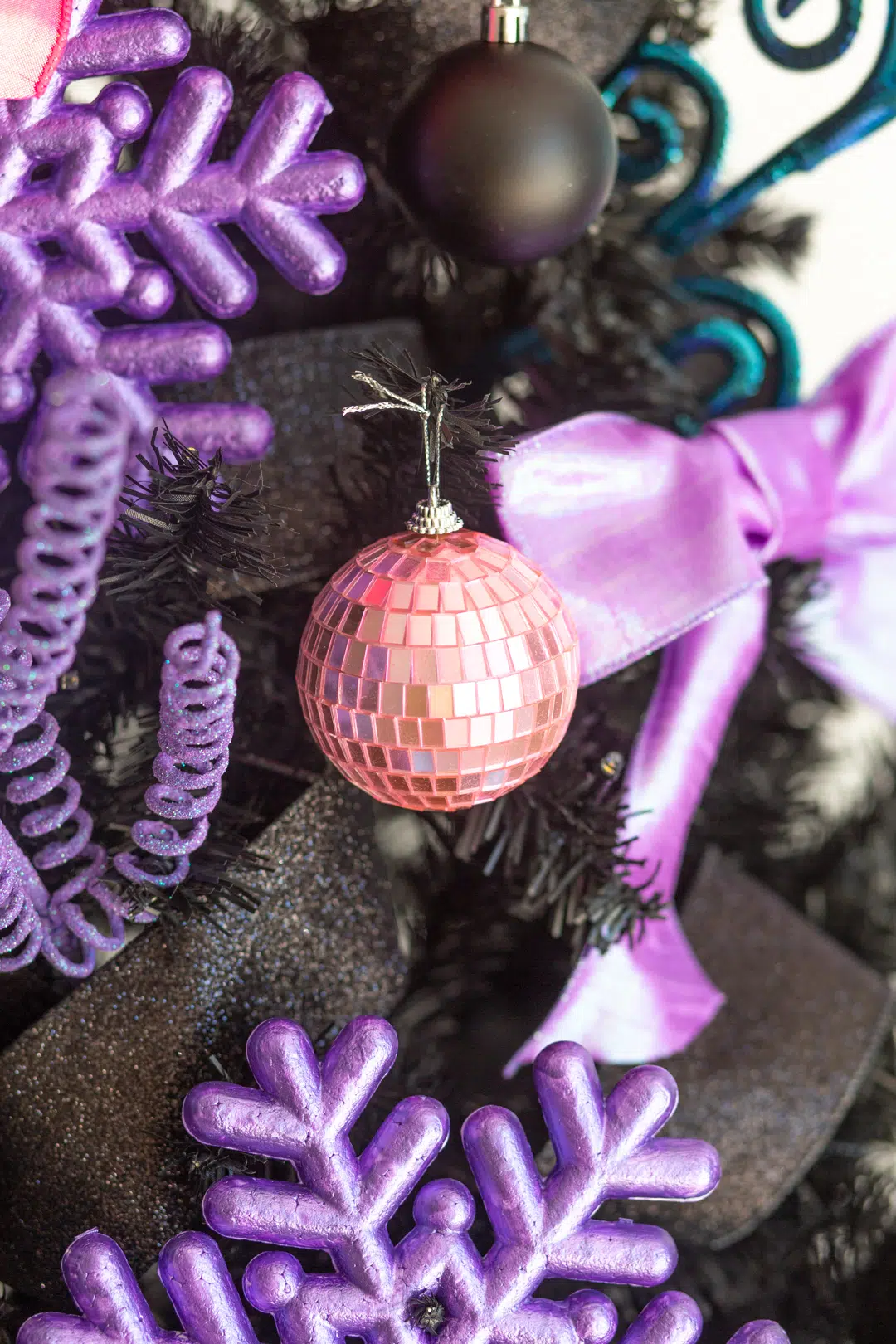 Would you like even more holiday ideas for 2022 to choose from? I'm thrilled to have you to visit Holiday review.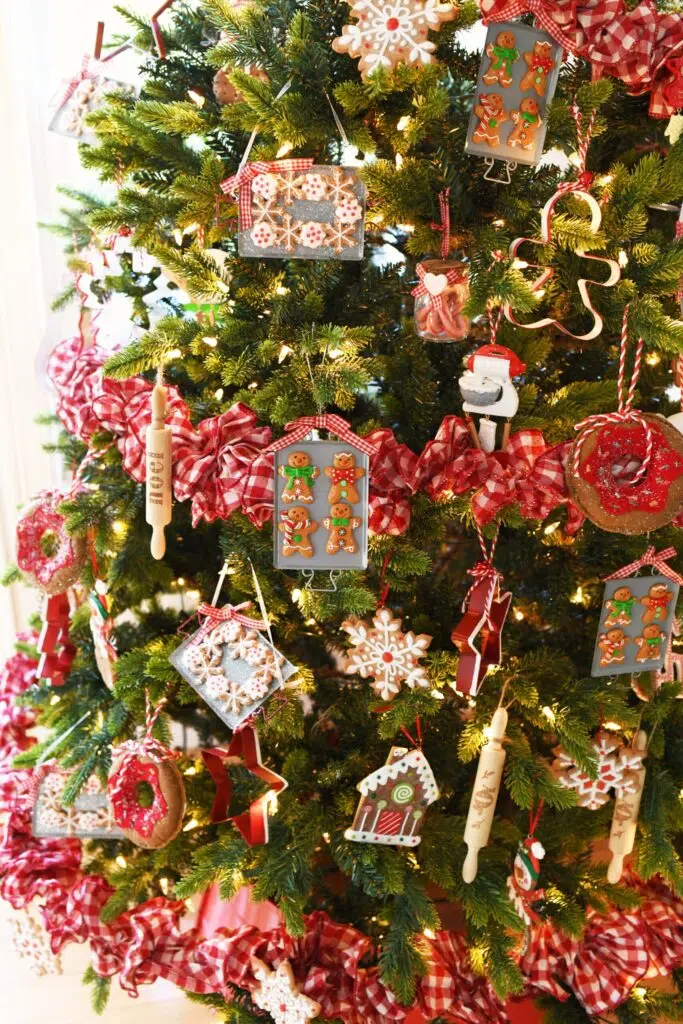 Her festive tree has all the sweet holiday baking vibes from donuts to mini gingerbread houses. I'm totally obsessed with the mini baking sheet gingerbread men ornaments. The cutest!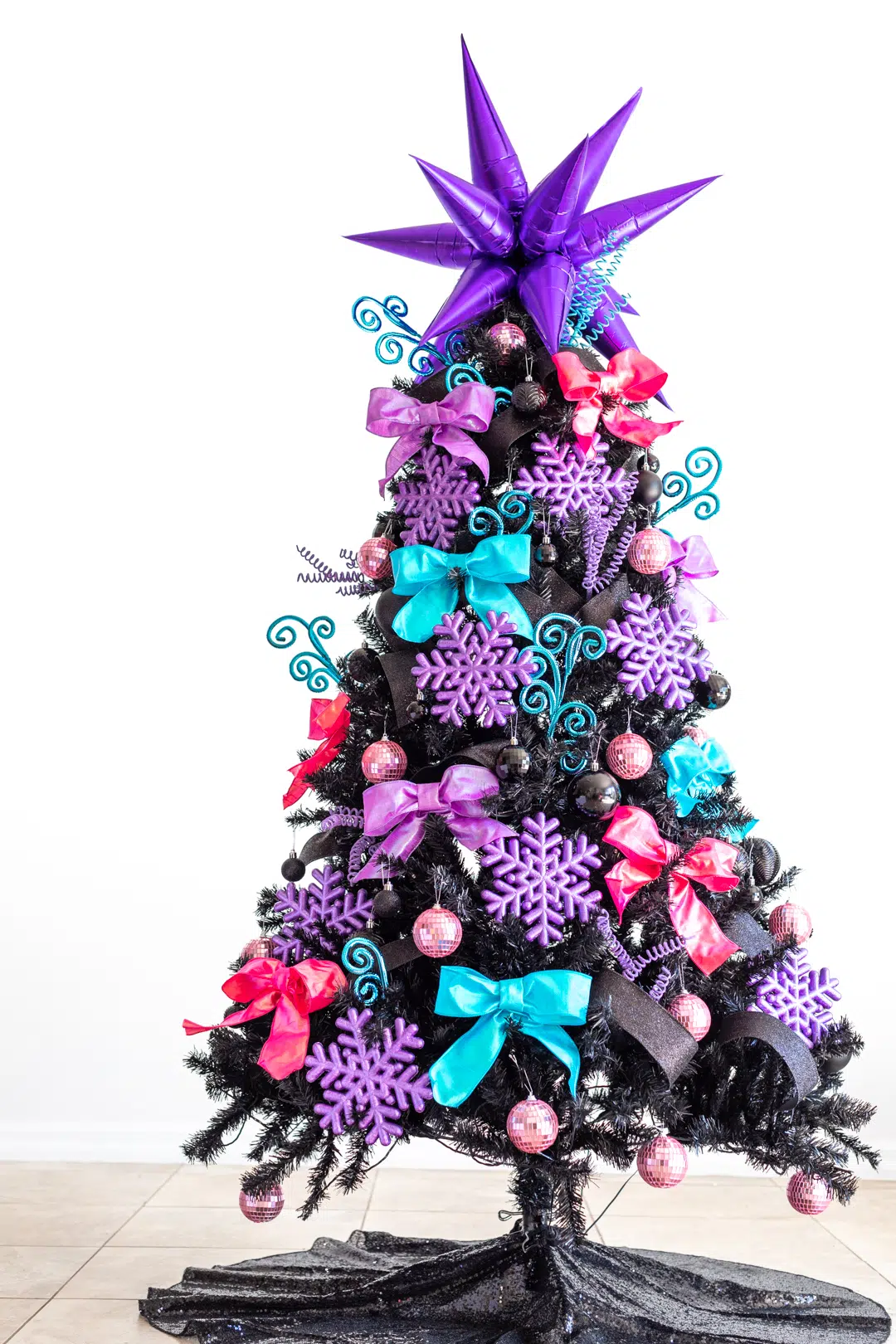 Voila! If you follow these simple tips, tricks and ideas, I believe you will have a fantastical show-stopping tree for the holiday season.